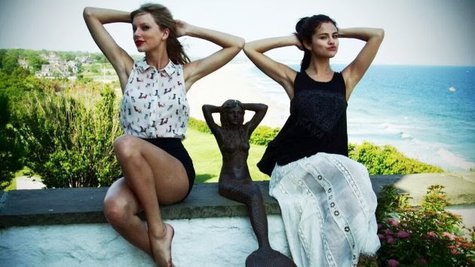 Selena Gomez appeared on ABC's The View on Thursday to promote her current Stars Dance tour and album, but of course, she ended up talking about another topic that people seem to find endlessly fascinating: her friendship with Taylor Swift .
The Stars Dance tour is Selena's first to feature so many big dance numbers -- 13 in all -- and she told The View co-hosts that she was inspired by the big teen-pop tours of the past decade. "I just wanted to get back to when I used to go watch tours, I watched Britney and 'N SYNC and Backstreet Boys and it was really about telling a story through dance," she explained.
Selena then talked about dancing somewhere other than on stage. Asked to describe a typical night spent hanging out with Taylor, Selena said, "Well, it depends. It's usually in her kitchen baking something that's really unhealthy, and then just, like, dancing like we're five years old."
She also explained why you always see her and Taylor sitting together at award shows. "We used to have to tell [them] everywhere that we went that we'd like to be seated together," Selena told The View co-hosts. "And now they don't even ask us, they just automatically put me and Taylor together!"
When Barbara Walters noted that it's "nice" for Selena to have a friend like Taylor who understands what she's going through, Selena agreed, saying, "And it's nice to have a girl that supports you." That may or may not have been a backhanded reference to Lorde 's recent diss of Selena's song "Come and Get It."
And when Jenny McCarthy chimed in, "And [one] who keeps secrets!" Selena laughed and added, "Yes, Taylor's very good at that!"
Copyright 2012 ABC News Radio