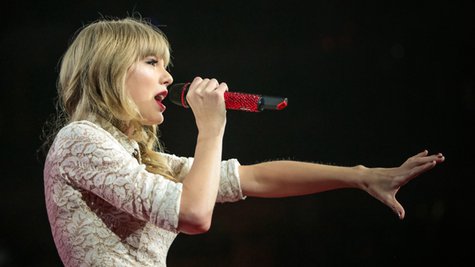 Taylor Swift , Pink, One Direction and Bruno Mars were some of the hottest acts on the concert trail this past year, so it's no surprise they're all finalists for this year's Billboard Touring Awards , which will be handed out November 14 at the Roosevelt Hotel in New York.
At the awards, Pink is nominated for Top Draw, based on concert attendance from October 1, 2012, through September 30, 2013. Basically, whoever wins in that category doesn't necessarily have to have earned the most money, but he, she or they will have played for the most fans.
In addition, Pink is up for Top Boxscore, which honors the highest-grossing single engagement by an artist during the same time period. She's nominated for her record-breaking run of shows in Melbourne, Australia; her competition comes from two separate engagements by the Rolling Stones : one in London, and one in Chicago.
Meanwhile, Taylor's RED tour earns a nod for Top Package Tour, which is for a tour with three or more artists on the bill. Among the acts she brought out on tour with her were Ed Sheeran , Florida Georgia Line and former American Idol finalist Casey James . Justin Timberlake and Jay-Z 's joint tour is also nominated in that category -- the third artist on that bill was DJ Cassidy .
Bruno Mars and One Direction are both up for this year's Breakthrough Award, which honors an artist in his, her or their first decade as a headliner whose tour has managed to rank among the year's most successful.
In the Concert Marketing and Promotion Award category, Taylor's tour is nominated for its sponsorships with Diet Coke, Keds and Elizabeth Arden. One Direction's tour is nominated for its affiliation with Nabisco and ConAgra. Beyonce 's there for her deal with Pepsi, as are the Rolling Stones for their partnership with Citi.
Bon Jovi 's Because We Can tour is nominated for Top Tour, which is based on which trek earned the most money from October 1, 2012, through September 30, 2013. Other nominees for Top Tour are Bruce Springsteen & the E Street Band 's Wrecking Ball tour, and the Michael Jackson Immortal show.
Finally, there's a fan-voted category, Fans' Choice, which lets people vote for the best tour of the year. This list of finalists includes pretty much every to act you can think of, including all the ones we've already mentioned plus the likes of Rihanna , Maroon 5 , New Kids on the Block and Justin Bieber .
Copyright 2013 ABC News Radio