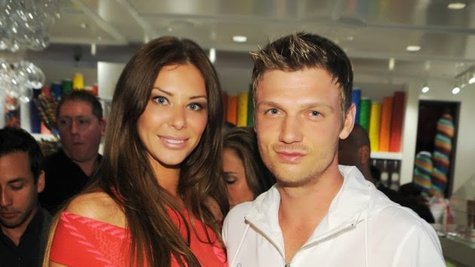 The only member of the Backstreet Boys who isn't married is Nick Carter , but he is engaged: He proposed to his longtime girlfriend Lauren Kitt earlier this year. And if he has his way, all of the group's fans will be able to witness their wedding.
Nick tells People magazine that he and Lauren plan to televise their marriage. "If I'm gonna do it, I'm gonna do it big," he declares. Nick, who says he once swore he'd never tie the knot, is feeling much more settled these days. "I'm more stable now," maintains the singer, who joined the band at 13, struggled with drug and alcohol addiction in his 20s, and then cleaned up his act. "There were times I thought I was going to die," he says of the bad old days.
In People's feature on the Backstret Boys, which you can find in the current issue, the group talks about touring with their wives and their children, who range in age from newborn to 10 years old. "When I was younger, I just wanted people to take us seriously as artists," says Kevin Richardson . "Now, as long as I'm enjoying myself, I don't care. I've got my family."
"This is a fun job," adds AJ McLean , father to 10-month-old daughter Ava . "But being a dad is the best job in the world."
Copyright 2013 ABC News Radio