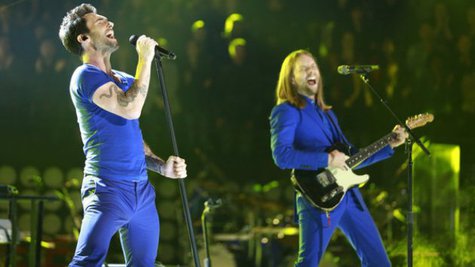 When The Voice airs its Battle Rounds in October, Adam Levine will welcome OneRepublic frontman Ryan Tedder as a mentor for his team. But it's not the first time the two singers have worked together: Ryan and Adam co-wrote Maroon 5 's latest hit, "Love Somebody."
"We had toured with Ryan Tedder a lot and he's a great guy, but we had never really worked with him on any songs," Maroon 5 guitarist James Valentine tells ABC News Radio. "So Adam actually flew out to Denver to go write with him...he lives there and has a massive home studio there. And I think that was the first song that they really worked on, and it obviously worked. We all love that song."
"Love Somebody" is the fourth smash hit from Maroon 5's album Overexposed , following "Payphone," "One More Night" and "Daylight." But having that one album produce so many hit singles isn't a surprise to Maroon 5 because, according to James, all the songs on the record were specifically designed to be hits.
"We've just been so happy with the response [to] this record and we really did swing for the fences...we really treated every track as a potential single," he explains. "And nothing was really gonna make the record unless it could be thought of as a single."
But in terms of Overexposed spinning off a fifth hit, James says it's unlikely. While there are still plenty of potential singles on the disc, the band has now moved on to their next album, for which they've been writing for quite some time.
"We could do a few more but, of course, we're already starting to focus on the next record...I think we're a little more focused on that right now," he tells ABC News Radio.
Maroon 5's next album, whenever it appears, will feature the return of keyboard player Jesse Carmichael , who chose to sit out this last album and tour cycle. Maroon 5's tour with Kelly Clarkson will wrap up in October.
Copyright 2013 ABC News Radio