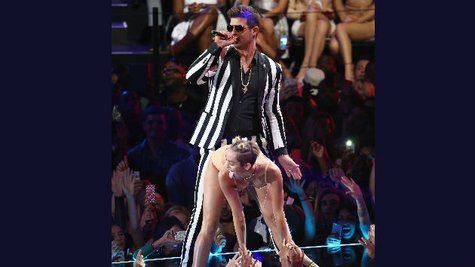 It's been well over a week since the MTV Video Music Awards, and people are still talking about Miley Cyrus' twerk-tastic performance, which featured her stripping down to a barely-there bra and panties, grinding against Robin Thicke , doing questionable things with a foam #1 finger, and waggling her tongue more than Gene Simmons of KISS . Now, Miley is finally breaking her silence about the performance and, unsurprisingly, says she was well aware of what she was doing.
"I don't pay attention to the negative because I've seen this play out so many times," Miley tells MTV . "How many times have we seen this play out in pop music? You know now. You know what's happened."
Pointing out that both Madonna and Britney Spears made headlines with their racy MTV performances over the years, Miley argues, "Every VMA performance, anyone that performs, y'know, anyone that performs, you're looking to make history. Me and Robin the whole time were saying, 'You know we're about to make history right now.'"
As for all those people who are still shocked by the performance, Miley has a message: get over it.
"They're over-thinking it," she says of people who are complaining. "You're thinking about it more than I did when I did it! Like, I didn't even think about it, 'cause that's just me."
Copyright 2013 ABC News Radio