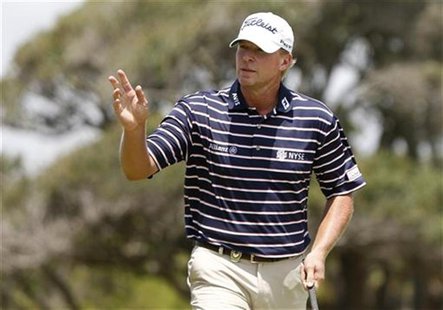 BOSTON, MASS (LEARFIELD-WSAU) Madison golfer Steve Stricker became an automatic qualifier for the U-S President's Cup team, after he placed second in the Deutsche Bank Championship near Boston yesterday. Twelve top American-born players will take on the International squad during the first weekend of October at Muirfield Village in Dublin Ohio.
Stricker – who's on a limited schedule this year – said he played in the Deutsche Bank tournament to win a spot on the President's Cup squad. He became the seventh of 10 automatic U-S qualifiers, after being 11th going in. Stricker was not planning to compete for the Fed-Ex Cup crown. But now that he's in the Top-10 in the Fed-Ex standings, he says he just might go for that crown as well.
Stricker jumped from 28th place to eighth in the playoff point standings, after he finished two strokes behind Deutsche Bank winner Henrik Stenson yesterday. Stricker shot a four-under-par 67 in his final round to finish at 20-under-par-264. Stenson went 22-under, and he moved into first place in the Fed-Ex point standings.
Stricker says he'll compete in the next playoff tournament, the B-M-W Championship near Chicago in two weeks. If he's still in the running for the Fed-Ex title after that, Stricker says he'll probably play in the final playoff event, The Tour Championship near Atlanta starting on September 20th.
Meanwhile, Jerry Kelly of Madison was eliminated from the Fed-Ex Playoffs yesterday. He tied for 53rd at Boston, at six-under-278. That put him 85th in the point standings. The Top-70 survived.