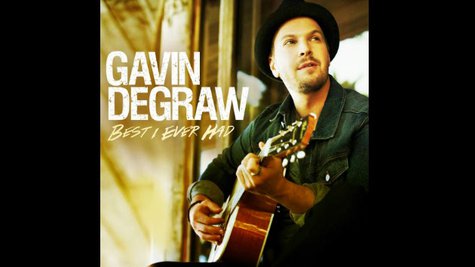 After wrapping up his stint on Train 's Mermaids of Alcatraz summer tour, Gavin DeGraw is now playing a few dates here and there, but he's mostly getting ready for the October release of his new album, called Make a Move . His latest hit, "Best I Ever Had," is the first single from the project, and Gavin's the first to admit that it doesn't sound like anything he's ever done before. But, as he points out, that doesn't mean that the entire album sounds like that.
"It really was a huge departure from what I typically do, stylistically, but I wouldn't say...'Oh, if you hear this song, then you know the sound of the album,' you know?" Gavin tells ABC News Radio. He describes the new disc as "all over the place," and notes, "The music business has shifted...it's become so singles oriented, and I think that's what I'm looking for, at least for myself as an artist, is to not be someone who has one particular sound."
"Best I Ever Had" stands out for its wild jumble of rapid-fire lyrics, some of which don't seem to make any sense. But Gavin says they're all carefully crafted: some of them explicitly refer to his own life, while others are humorous commentaries on news events and stories.
"There are some thing you throw in there [where] everyone's like, 'Wow, did he just throw it in there because it rhymes?'" he laughs. "But there are moments there where I wanna point out a lot of the irony of things, y'know? Saying things like, 'I've got vertigo, no I can't see straight, I've got obligations though I'm usually late,' I mean...I think it's so real to what my life is."
So what about that strange line, "But I read that soda kills you/and Jesus saves"? Gavin says that was a direct response to a news story he saw about Michael Bloomberg , the mayor of New York City, trying to impose a ban on large sizes of sugary soft drinks.
"The mayor, when he tried when he tried to pass legislation on selling a certain amount of soda...it just seemed absurd," Gavin tells ABC News Radio. "You have to include those little bits and pieces of current events and political current events when you're writing a song. If you ignore them, then it's almost [like] you're missing an opportunity here."
Fans now have a chance to change the lyrics of "Best I Ever Had." You know how, at the end of the song, he reels off the names of a bunch of different cities and states? Well, now you can tweet your location and get a chance to have your city's name featured in a custom version of the song that Gavin plans to record. Visit GavinDeGraw.com for more details.
Copyright 2013 ABC News Radio