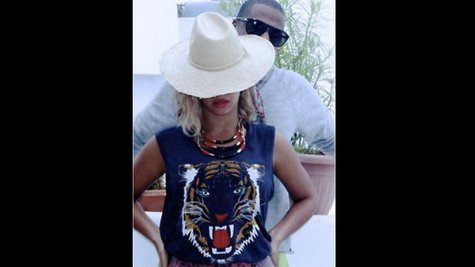 What does a couple, worth an estimated one billion dollars, do on vacation? Well, if you're Beyonce and Jay-Z , you travel the Mediterranean in a luxurious private yacht, making stops in the most desirable locations from Spain to Italy.
Shortly after returning from their European holiday, the singer posted various pictures on her Tumblr page , just to make sure everyone could see just how awesome the trip was. The pair were joined by their 20-month-old daughter, Blue Ivy , but that didn't prevent Bey from enjoying her 32nd birthday.
The pictures chronicle the duo watching the sunset, diving into the sea, enjoying a tray of oysters, drinking Armand de Brignac Brut Gold champagne, and Jay showing off one of his favorites Cuban cigars.
The family sailed from the Italian port of Stromboli to the island of Capri inside the triple-Decker Galactica Star, which is 60-meters long, boasts two pools and can accommodate up to 12 guests, according to SuperYachtTimes.com .
With the trip over with, it's back to business for the busy singer. Beyonce is currently performing in Brazil for the Latin American leg of her Mrs. Carter World Tour, which includes stops in Venezuela, Colombia, and Mexico before wrapping in Puerto Rico on September 28.
Copyright 2013 ABC News Radio