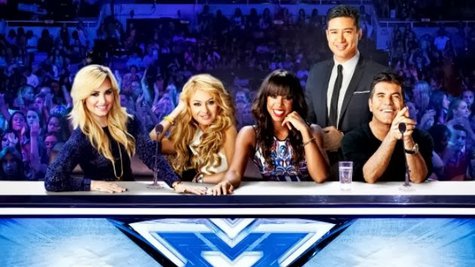 The third season of The X Factor begins Wednesday night on Fox, and this time Simon Cowell will be the only man on the judges' panel. And that, according to returning judge Demi Lovato , will make for a fun season, since she and the girls are totally ganging up on Simon.
Demi is joined on the panel by ex- Destiny's Child member Kelly Rowland , who was a judge on the U.K. version of the show in 2011, and Mexican pop star Paulina Rubio . And Demi says her fiesty interactions with Simon are now tripled thanks to Kelly and Paulina's presence.
"If people liked what they saw last year with me and Simon, they're going to have so much fun watching it this year, because now it's basically a whole panel against Simon. It's really great," she laughs.
Demi adds, "We're not 'Simon's Angels,' we're like Simon's little demons. It's so fun."
Kelly, meanwhile, says the judges have been "having a blast" during X Factor tapings and are putting emphasis on making the show fun. She explains, "I think that with some of these shows, like, the fun has been sucked out, like, what we originally saw."
Kelly continues, "Everybody is a critic now, and they really aren't, and I just think that's it's really important for people to see that America's got talent, this is our talent growing here and we have to support them, especially if they're darn good." (KELLY ROWLAND AUDIO IS EXCLUSIVE)
Aside from the shakeup with the panel, The X Factor has made a few other changes for the new season. While Mario Lopez is back as host, his season-two sidekick, Khloe Kardashian , will not return. In addition, the grand prize has been reduced from a five-million-dollar recording contract to one million dollars and a recording contract. So far, the show hasn't produced any major stars, though non-winning acts Emblem3 and Fifth Harmony have made some inroads on the pop charts.
The two-night season premiere of The X Factor kicks off Wednesday night at 8 p.m. Eastern time.
Copyright 2013 ABC News Radio