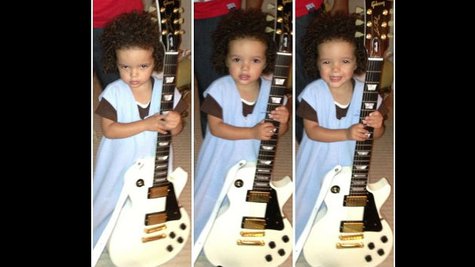 Mariah Carey and Nick Cannon 's son, Moroccan "Roc" Scott Cannon , is already showing signs that show business may be in his future. The adorable 2-year-old was snapped holding a guitar while hanging out backstage at America's Got Talent , waiting with his mom as Cannon wrapped up hosting duties.
Mariah posted the image to Instagram , captioning it: " Roc: 'Mommy, what does it take to be Roc Starr?' Mommy: 'Rocky, just treat it as reality!'" In June, the singer posted an image of Roc's twin sister, Monroe , holding a microphone and singing with Mariah.
If either child actually does decide to follow in Mariah's footsteps, they will certainly have big shoes to fill. With two decades of worth of platinum selling albums and singles to her credit, Carey is currently crafting her fourteenth studio album, The Art of Letting Go . The diva has recently snapped studio pictures as she continues to work on the project, which spawned her Billboard 100 hit single, "#Beautiful" featuring singer Miguel .
Copyright 2013 ABC News Radio