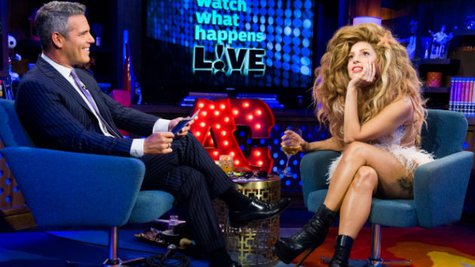 It may be hard to recall now, but when Lady Gaga first came onto the scene, there was a lot of talk about whether or not Christina Aguilera had tried to copy Gaga's look and sound on her album Bionic. This led to something of a feud between both women's fans, which continues, in part, to this day, and there were also rumors that the two artists didn't get along personally Well, Gaga's got something to say about this: it's not true, so stop the nonsense.
Appearing on Bravo's Watch What Happens Live on Wednesday night, Gaga told host Andy Cohen that she's not sure how this so-called feud started, but she thinks it's ridiculous, and says has nothing but love and admiration for Christina.
"I just think it's very unfair of anyone to pit another woman against another woman, especially in the space of music, when we're all just trying to be taken seriously at all as females," Gaga told Cohen. "Because we're not taken seriously as musicians, and Christina is an incredible vocalist and an incredible artist."
Gaga also revealed that Christina was a huge inspiration to her when she was a teenager, and apologized for any bad blood that anyone have ever attempted to create between them.
"You know, from me to her, I'm so sorry that anything that anyone ever said to her because of my existence," Gaga said. "Because when I was 15, I was singing 'I Turn to You' at the top of my lungs, trying to hit all her notes. So she was an inspiration to me to have a wider vocal range, and I just think it's all total nonsense the way that they do that."
Perhaps Gaga's comments will stop a current online campaign that encourages Christina fans to purchase Bionic on November 11 rather than Gaga's upcoming disc ARTPOP, which is out that same day.
Copyright 2013 ABC News Radio