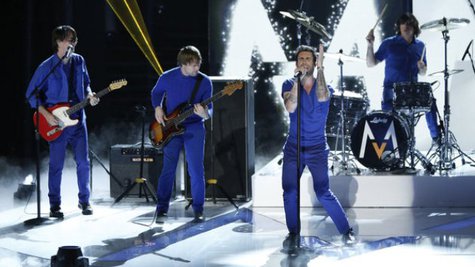 Looks like fans won't have too long to wait for some new Maroon 5 music. The band's guitarist says their next album could come as the beginning of next year.
Speaking to AccessAtlanta.com, Maroon 5 guitarist James Valentine says, "We're always working on new material...We could put out a record tomorrow if we needed to, but we won't!" He added, "We're looking at early 2014 for a new release."
For right now, though, the band is on tour with Kelly Clarkson , promoting their Overexposed album, which has produced four huge smashes: "One More Night," "Payphone," "Love Somebody" and "Daylight." And James says when the band is on tour, the guys split themselves up into two buses based on a very, very important criteria.
"Those lines were drawn based on whether you play video games or not," reveals James, noting that it's singer Adam Levine and drummer Matt Flynn are the ones who are the gamers.
"[They] play a lot of NBA Live, but I'm not part of that bus," laughs James. "There's a lot of shouting and name calling. The rest of us read and listen to music."
In addition to NBA Live, Adam is looking forward to another video game. He recently tweeted, "Already see myself locked in a room playing the new Grand Theft Auto for days on end. Showers optional." Wonder what his fiancee Behati Prinsloo will have to say about that?
Coyright 2013 ABC News Radio