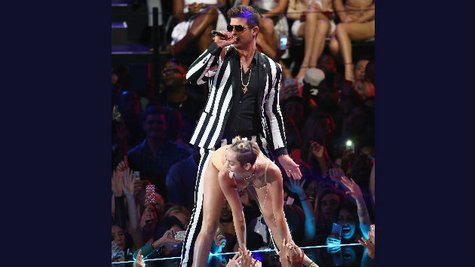 Its been a few weeks since Robin Thicke and Miley Cyrus made headlines for their raunchy performance during the MTV Video Music Awards. But during a sit-down with Star magazine , Robin says he didn't think the performance had a sexual component to it at all.
While admitting that the performance was designed to "excite, provoke and entertain," Robin tells Star that he was surprised that viewers saw it as "sexual." He explains, "I didn't feel anything sexual about the performance, I though it was silly and funny, she was being humorous and naughty, but it wasn't sexually charged at all."
That being said, Robin says that he and Miley both knew that some folks might be upset by it.
"We knew what we were getting ourselves into," he says. "We're entertainers and the VMAs is the perfect place for a little shock and awe. We kinda knew when we were in rehearsals and we were like 'Okay if you touch me with your foam finger, all over my crotch, obviously a few people are going to have something to say about this.'"
Robin also confirms that his wife Paula Patton had no issue with the performance. "She loved it. I think it looks different when you're on-screen then when you're in the arena," he explains. "It was really just a circus. She thought it looked great."
Robin's latest album, Blurred Lines , sits at number six on the Billboard 200 chart this week.
Copyright 2013 ABC News Radio