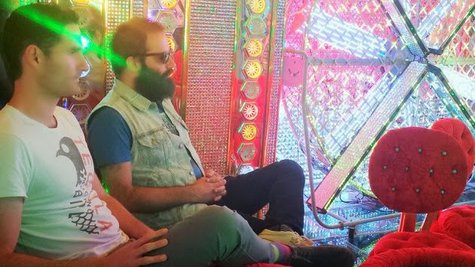 Before finding fame, many artists work dreary day jobs that have nothing to do with art or music. But the guys in the duo known as Capital Cities say their pre-fame jobs were the perfect training ground for their future career as pop stars: they wrote commercial jingles for a living.
Capital Cities members Ryan Merchant and Sebu Simonian first met on Craigslist, and then worked as jingle writers for three years, crafting songs for big clients like Honda and Walmart. And Ryan says that's where they honed the skills they'd later apply to the group and their super-catchy hit "Safe and Sound."
"When we were writing jingles, we were in this very creative period where we were...every single week we were asked to write song after song after song and just composing all the time," Ryan tells ABC News Radio. "And I think when you're in that mind-set when you're constantly writing, whether it's something good or something bad, I think ideas tend to come to you more often."
In addition, the demands of jingle writing forced the duo to explore all different kinds of musical genres. "When you're writing for TV commercials you have to write in a lot of different styles," Ryan explains. "One day you'll be doing a hip-hop track; the next day it's a mellow, acoustic track....It made us want to experiment with different styles and incorporate different genres into our sound."
And there was the added bonus of being able to take anything they didn't use and incorporate it into their original music. "Simultaneously, while we were writing jingles, we were also working on songs," says Ryan. "And sometimes we would write something for a commercial that wouldn't get used and we'd be like, 'That's a great melody, let's take that and use it for something else.'"
And speaking of great melodies, Ryan admits there's one commercial jingle that he wishes he'd written, because it's just so fantastic. It's a jingle that came out in the late '80s, for a brand of gum called Big Red. "I can't even sing it, but it's probably the most insane melody-slash-lyric crammed into 30 seconds that I've ever heard!" Ryan laughs.
Capital Cities are currently touring overseas, but they'll be back at the end of the month for a series of festival dates, followed by a headlining tour that starts October 20.
Copyright 2013 ABC News Radio