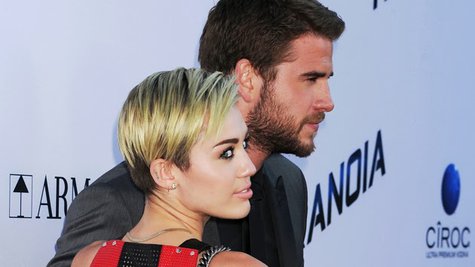 Miley Cyrus and Liam Hemsworth only recently announced the end of their engagement, but it appears that there was trouble in paradise long before now.
Speaking to the Canadian magazine Fashion about one of her new songs, called "Drive," which the mag says "alludes" to their relationship, Miley says, "I wrote it while I was working on Valentine's Day -- emotionally it was such a hard time. It is about needing to leave someone but not really wanting to completely cut yourself off from the relationship." She adds, "It's a time when you want to leave but you can't. It's also about moving on."

Of course, Miley also discusses the MTV Video Music Awards in the interview. "People expect me to shock -- that's what I do. Shocking people is what I'm good at," she tells Fashion . "Think about it: Would Donald Trump really care about anyone's VMA performance unless it was at that magnitude? My friend's 94-year-old grandma saw it and she didn't remember anybody being at the show except me."
She also claims that MTV edited her performance way down. "I was trying to slap Robin's a** but no one saw it!" she claims. "Believe me! MTV edited so much. They cut almost everything I did. I'm proud of that performance...The reaction to what I did has been insane. I think it was a breath of fresh air! For the people that don't get it, you weren't meant to."
And, for a woman who is best known these days for not wearing very many clothes at all, Miley also asserts that her style sense is what makes her stand out.
"Pop music is the same. What I wear adds a factor that other girls can't compete with," she boasts to the magazine. "I think it is important that I execute a look better than other people. Fashion is what separates me from everyone else."
Copyright 2013 ABC News Radio