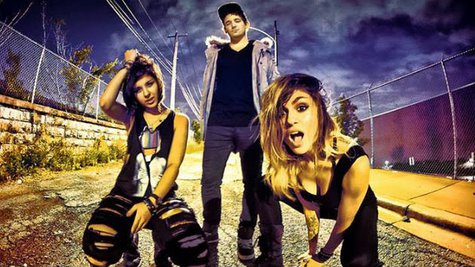 Krewella, the EDM trio who scored with the hit " Alive ," has a new single and a brand-new album, and is in the middle of a major tour that the group says is "blowing minds."
The trio's debut album, Get Wet , arrived in stores Tuesday, and features guest appearances by Fall Out Boy singer Patrick Stump and Travis Barker of Blink-182. It also features their new single "Live for Tonight," which is rising up the charts. Krewella, made up of Kris "Rain Man" Trindl , plus sisters Yasmine and Jahan Yousaf , kicked off their tour earlier this month, and it'll keep them on the road through November.
Like the album, the tour is also called Get Wet, and Janan explains why. "We're obviously soaked with sweat by the end of the set," she tells ABC News Radio. "But I want everyone to just lose their inhibitions, go as crazy as they want to and just get wet. It's really crazy -- the tour production is insane too." "Hopefully, it's blowing minds," adds her sister Yasmine.
As for Get Wet the album, it also includes "Alive," the song that started everything for the Chicago trio. Asked about the fan response to the track, Jahan says, "You're in your own little zone and no one's ever gonna understand that mindset you were in when you wrote the record. But you can tell when you look in the audience, and you see some people laughing and some people crying when you're singing the record -- it does something to people. It resonates."
And it resonates more strongly for some people than for others. Jahan says that recently, a fan came up to them, insisting that he had to tell them his "Alive" story. Jahan says the fan told her, "I came out to my dad, I told him I'm gay, and it was a really scary moment for me and I went in my car and I drove away and the first song I heard was 'Alive.' So he always associates 'Alive' with that emotional moment."
"It's moments like that that it clicks," she adds. "I'm like, 'Now I get it, why 'Alive' is our biggest record.'"
Copyright 2013 ABC News Radio