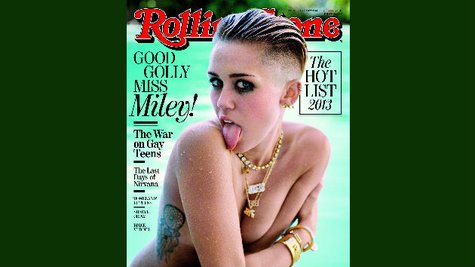 Miley Cyrus' cover story in the new issue of Rolling Stone magazine just wasn't enough to contain all the incredible stuff that tumbled out of her mouth, so the mag has now made more priceless Miley quotes available online , including comments about drugs, her world-famous tongue and so very much more.
"I think weed is the best drug on Earth," Miley tells the magazine. "Hollywood is a coke town, but weed is so much better. And molly [ecstasy], too. Those are happy drugs -- social drugs. They make you want to be with friends. You're out in the open. You're not in a bathroom. I really don't like coke. It's so gross and so dark. It's like what are you, from the '90s? Ew."
Regarding her tongue, Miley says, "I just stick my tongue out because I hate smiling in pictures. It's so awkward. It looks so cheesy. Now people expect it -- like, 'Put your tongue out!' It's just easier that way."
Here are Miley's thoughts on some of the other topics she discussed:
On the "Wrecking Ball" video: "I think it will be one of those iconic videos...I think it's something that people are not gonna forget. Hopefully an artist 30 years from now will be like 'Yo you remember that Miley Cyrus video? We gotta do something like that.' That sledgehammer was heavy as sh*t, though. My arms were so sore the next day. And they didn't tell me it was painted, so I was licking it, and they were like, 'Don't lick that!'"
On her ultimate goal: "I want to be the cool chick that everyone wants to be friends with. I want the people who watch my shows or watch my videos to be like, 'She looks like the most fun person to hang out with ever. I want to be that girl's best friend. I want to party with her.'"
On her future travel plans : "I've always dreamed of going into space. I'm going to go at some point. Virgin Galactic is taking a ship up next year -- I'm trying to get on there right now. "
On her role models: "I watch people like Dolly [Parton] . Dolly knows what she is. She's smart. She's not just a blonde with big t**s -- she is a genius under there. She literally came from nothing, and now you go anywhere in the world, and they know Dolly Parton."
On her new album, Bangerz : "There are albums that people still are listening to, like Michael Jackson's Bad , because it's so f***ing dope. I want people to listen to my album like that...I'm trying to set a new standard for pop music. So it has to live up.
On her teddy bear outfit for the VMAs: "When I'm dressed in that teddy bear thing, I think that's funny....I had this obsession about this character that's like an adult baby. Like if you see a baby do something like that it's so warped and weird, but there's something creepily hot about it. So when I'm in that teddy bear suit, I'm like a creepy, sexy baby. But I forget that it's, like, people in Kansas watching the show."
Copyright 2013 ABC News Radio