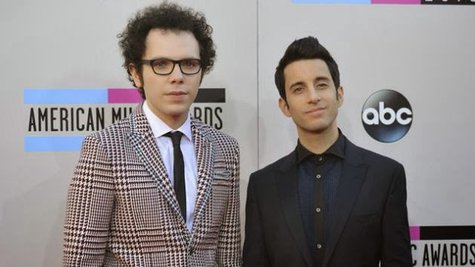 A Great Big World has experienced success beyond their wildest dreams thanks to "Say Something," their hit duet with Christina Aguilera . But what matters more to them than downloads and chart positions is how the song has been personally affecting their fans. It's something they can see every day online.
"Before [we made] the music video, we put up a streaming version of the song on YouTube," recalls the duo's Ian Axel . "And people just started using that as a place to just vent and spill their guts and talk about things that it feels like, from reading [the comments], they've never talked about with anybody. And people are responding like an open group therapy session."
"Say Something" was written by Ian and his musical partner, Chad Vaccarino , about heartbreaking romantic situations, but Ian says it's amazing how their fans have applied the lyrics to other personal situations.
"They're saying, 'It reminds me of this time in my life,' 'it reminds me...of my grandpa, it reminds me of my brother when he was in a coma,'" he tells ABC News Radio. "Which is crazy."
Not that Ian and Chad are complaining -- in fact, they couldn't be prouder. "It makes us both feel complete and that we're not alone," Ian tells ABC News Radio of the way fans have responded to "Say Something." "And it feels so fulfilling. And it feels like there's nothing missing from life, because we're doing what we're supposed to be doing, and we actually are connecting. We feel like the luckiest people alive!"
Adds Chad, "Yeah, to connect on the level that it's connecting is why any artist does what they do."
There's also a lighter side to "Say Something's" success. The song is now so popular that it's enabled the duo to reach an unusual goal.
"We recently saw a picture of a karaoke bar, like a book and list, and it had 'Say Something' in it," reveals Chad. "Oh my God, that was...mind-blowing."
"That's one of our little dreams of ours, to be in a karaoke book," reveals Ian, and Chad laughs. "We should go! I want to go to a karaoke bar and sing it!"
A Great Big World won't have time to sing karaoke for a while. They'll kick off a brief string of tour dates this Saturday, and next month, they play a few dates on the West Coast before heading overseas for shows in the U.K. and Europe. They have more North American tour dates planned for June.
Copyright 2014 ABC News Radio