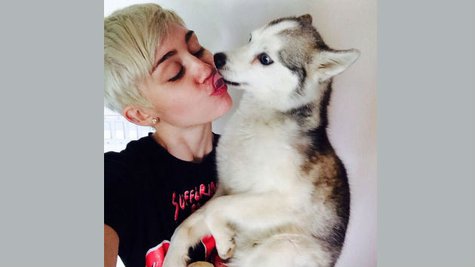 Most Miley Cyrus fans know that the singer absolutely loves her pet dogs, so it's no wonder she's devastated that one of them has gone to that big dog park in the sky.
"I don't wanna say it because I don't want it to be real... But my precious baby Floyd has passed away," Miley tweeted on Tuesday. "I am broken." She continued , "I know I don't mean it but I wish he would've taken me with him. This is unbearable. What am I gonna do without him?" She also tweeted , "I am miserable," and posted numerous photos of herself cuddling the pup.
Miley later took comfort in, of all things, the message she found in her fortune cookie at a popular chain restaurant. "sometimes PF Changs knows just what you need to hear," she wrote , and posted a photo on Instagram of the fortune, which reads , "Your love of life can carry you through any circumstance."
However, on Wednesday, she wasn't feeling any better, writing , "I miss him so much," and adding , "What you don't understand is he's not in a better place. The best place he could be was with me...where he was loved more than anything."
Perhaps Miley will be cheered by the fact her new BFF, Madonna , has tapped her to be this month's guest curator for her ongoing Art for Freedom initiative. Throughout the month of April, Madonna and Miley will work together to select works by artists on the subject of freedom and human rights that have been submitted to the project's website . The works will be highlighted on the website, and at the end of April, Miley and Madonna will choose one artist to receive a $10,000 grant for the nonprofit organization of their choice.
"I welcome Miley's input along with her fans to express themselves artistically and to share their creative ideas on the subject of human rights and freedom of speech," Madonna said in a statement. "Miley and I look forward to hearing your voices in the format of your choice throughout the month of April and onward."
"Art can speak volumes -- I'm glad to join Madonna in encouraging people to have their voices heard," Miley added.
Copyright 2014 ABC News Radio