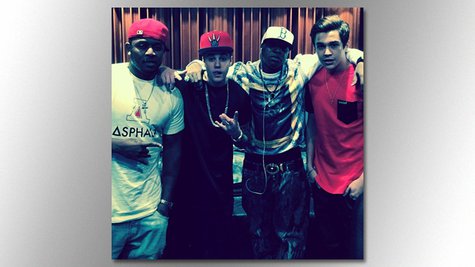 Via his Instagram account , Justin Bieber posted proof that he and Austin Mahone are putting in some studio time. Biebs captioned Wednesday's snap with the 17-year-old, "New music."

A source told People , "Justin knew Austin had been in the studio working on his album. And he had a song he thought could be really perfect to do with Austin."
The source says the collaboration didn't come as a surprise to those in the know. "Austin and Justin have met before and they really respect each other's music...They work with a lot of the same producers, so they got together in the studio."

Mahone's fans -- the "mahomies" -- are already jonesing for his new album later this year, but he upped the hype on his own Instagram account, posting in response to Justin's pic, "What an amazing song last night. The world isn't ready!"
Copyright 2014 ABC News Radio