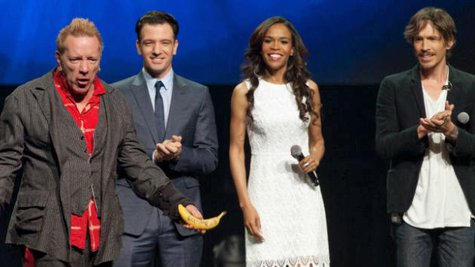 This summer, one member of 'N SYNC , and one member of Destiny's Child , will be touring arenas all over North America with a multi-million-dollar stage production...but their names aren't Justin Timberlake and Beyonce. JC Chasez and Michelle Williams have joined the cast of a new arena production of the classic Andrew Lloyd Webber / Tim Rice musical Jesus Christ Superstar which gets underway in June, and JC says his involvement, at least, was pretty unexpected.
"All of a sudden the phone rings and they're going, "So Jesus Christ Superstar's going out on the road and they're playing arenas,'" JC recalls. "I was like, 'Oh, OK.' 'And Webber's doing it, and Rice is doing it.' And you're like, 'OK, this is getting big fast!.' And then they tell you the people that you're gonna be working with, and you just get really excited. And I'm ready to go on the road." He'll be playing the role of Pontius Pilate in the show; Michelle will be playing Mary Magdalene.
As for those "people" they're going to be working with, the rest of the cast includes Incubus frontman Brandon Boyd as Judas and punk rock icon John Lydon , better known as Johnny Rotten from the Sex Pistols, as King Herod. British performer Ben Forster will play Jesus; he's already toured with this production in the U.K. and Australia.
"I'm very fortunate to be a part of this cast. I know that," JC says. "Michelle's incredibly sweet. She sounds great. [And] I met all these guys for the first time and they're all incredibly talented, you know?" He adds, "You're standing next to, like, the guy who kind of invented punk and you're going, 'Wait, how did this happen?' Pop...punk...this is crazytown over here! So, I like it. I'm like, 'Let's get weird. Let's do it!'"
Was JC surprised, though, that he was asked to play Pontius Pilate instead of the lead role of Jesus? "Yeah, actually, to be perfectly honest, I was like, 'My initials are J.C.!' you know?" he laughs. "But I was actually really excited at the idea of the character, because I like the complexity of the character. I like the fact that he feels good and bad about everything that he's going through, and so there's a really fun kinda dynamic to play with."
As for Michelle, this is far from her first time in a musical: she previously starred on Broadway in Aida, and also appeared in The Color Purple , Fela! and Chicago. Tim Rice co-wrote Aida , and one reason she got the part of Mary in Jesus Christ Superstar is because he thought so highly of the work she did in that musical. Michelle says she's humbled and thrilled to have impressed Rice so much that he'd reach out to her again.
" These people, they don't have to remember who you are. They've written so many shows, they've moved on. They're good, you know?" she says. "But he's like, 'I remember you. I remember when you did this....It's great to hear your voice again,' is what he said."
Michelle says she's ready to tap into what she learned during her time with Beyonce and Kelly Rowland to rock arenas on this new tour.
"I'm definitely looking forward to it. I'm just gonna channel those Destiny's Child years, and that experience, " she says. "I'm used to it -- whether it's a big arena, or a theater that seats a hundred, I'm gonna give it my all."
Tickets for the Jesus Christ Superstar Arena Spectacular go on sale April 11. The tour kicks off June 9 in New Orleans.
Copyright 2014 ABC News Radio