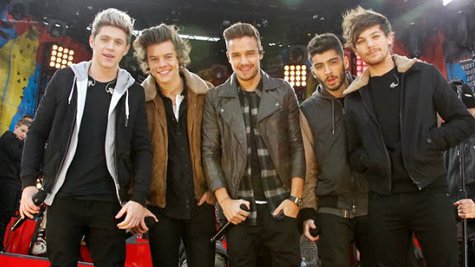 One Direction reportedly has hired an enormous team of security guards, some with military backgrounds, to protect the group during its current South American tour.
According to the U.K.'s Daily Mirror , a team of private security guards is protecting Niall, Harry , Liam , Zayn and Louis around the clock because of fears the lads could be targets for kidnappers.
"There will be no wandering into the city for partying or sightseeing anywhere deemed dangerous -- and Colombia is definitely dangerous," the Mirror quotes a source as saying. "No risks are being taken. The dangers in some of these countries are very real and that's why management have arranged the world's best security teams."
According to the paper, 1D was escorted to and from their show at Bogata, Colombia's El Campin stadium on Friday by a convoy of security vehicles and a police escort, while their personal security detail kept entire floors of their hotels off-limits to visitors.
It's too bad the security detail wasn't on hand in the crowd at 1D's show in Lima, Peru on Sunday. Also according to the Mirror, 47 people at that concert at the city's Estadio Nacional required medical treatment for injuries sustained when the crowd began pushing and shoving to get nearer to the stage.

Things got bad enough that 1D threatened to walk off the stage if the crowd didn't cool down. The Mirror has posted video of Niall Horan telling the crowd, "If you don't want anyone to take us off the stage, make sure you stay back."
Next up for 1D: two shows at Santiago, Chile's national stadium, Wednesday and Thursday.
Copyright 2014 ABC News Radio