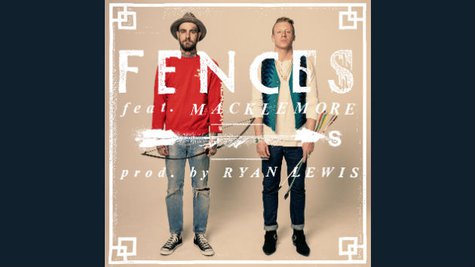 Macklemore & Ryan Lewis have technically released their first new music since their hit album The Heist -- but it's not being released under their name.
The Seattle duo has teamed up with another Seattle-based musician, Chris Mansfield , who records under the name Fences , for the video for the Fences song "Arrows." Macklemore tells Rolling Stone that Chris contacted him in December about collaborating on the song, and he and Ryan Lewis helped shape it into "Arrows." All three also collaborated on the video.
"Arrows" is credited to "Fences featuring Macklemore & Ryan Lewis," but Macklemore is prominently featured in the video, revealing through his verses and the video's imagery how he really feels about his global fame.
In the clip , Macklemore is a cage, mobbed by reporters and flashing cameras. "When the world finally sees his art/He wishes that he never would have made it," he raps. "This is what you wanted, huh/But you got it all in vain cause you forgot who you are."
The rapper tells Rolling Stone , "Oftentimes you feel like a spectacle. There is this feeling, just walking around now, like, 'I'm not even a human being.' People are taking pictures of you. They don't even ask you. There's a lack of any sort of privacy. You don't know what that is until you're in that box. I try to go about my life with the utmost gratitude, but there are times when you're like, 'I feel like an animal stuck inside of these bars.'"
Later on in the video, he dives into a swimming pool full of copies of Rolling Stone magazine with his face on the cover, as he raps, "I'm blinded by this limelight/it's all night, it's all day/These bright lights, these bright lights/Once you turn 'em on/You can't walk away."
In a statement, Macklemore says, "This music video was our baby. And we raised that baby. We put hella time, love and energy into that kid of ours...Run into the world. Show them who you are. You deserve to be free, baby."
The rapper tells Rolling Stone that in September, he and Ryan will reconvene in the studio to continue working on the follow-up to The Heist.
Follow --ABCNewsRadio
Copyright 2014 ABC News Radio