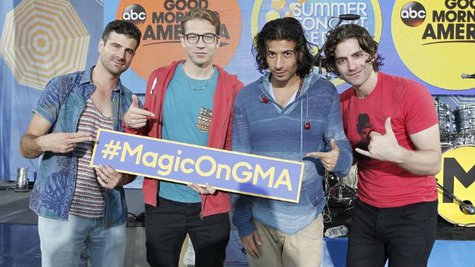 It was a MAGIC! -al morning in New York City's Central Park on Friday, as the Canadian reggae-pop band took the stage on ABC's Good Morning America Summer Concert Series.
During the show, the group performed their hit "Rude," which has been #1 for six weeks, and their new single, "Let Your Hair Down," plus the album track "No Way No" and a reggae-fied cover of Cyndi Lauper 's "Girls Just Want to Have Fun." Afterward, lead singer Nasri told ABC's Robin Roberts about his journey from behind-the-scenes producer and hit songwriter, to frontman of his own chart-topping band.
"I had reached a certain level as a songwriter that is a very good career, and I didn't need to switch careers," Nasri explained. "But there was something just really in my heart that wasn't settled. And when I met the guys, I knew that this was the next step in my life."
"I mean, it's great to know that our music is being heard because we've all been paying our dues for a long time as musicians," he added, speaking about the success of "Rude."
As for why the group is called MAGIC!, guitarist Mark Pelli revealed it was their producer who came up with it, based on the title of one of their songs. "As Mark explained, "One of our songs is called 'Don't Kill the Magic,' and y'know, with 'Magic' at the end, he was like, "Hey! It'd be pretty cool to call the band Magic!"
MAGIC!'s next TV appearance will come September 9, when they perform on the CBS special Fashion Rocks.
Follow --ABCNewsRadio Copyright 2014 ABC News Radio