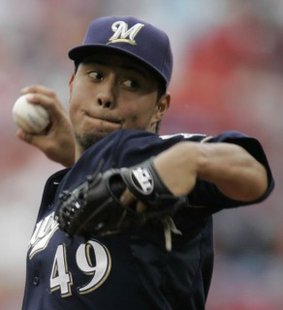 MILWAUKEE, Wis. (WSAU) -- It was not a good evening for the Milwaukee Brewers. Starter Yovani Gallardo struggled, the defense was shaky, and the bats were cold as the Pittsburgh Pirates took the series opener by a score of 8-3.
The Brewers did have a few highlights. Ryan Braun's first inning home run gave the Brewers a 2-0 lead, but the Pirates scored three times in the top of the second. The crew never saw the lead again, but added a run in the 8th inning with a Rickie Weeks RBI off former Brewer closer John Axford.
The Pirates out hit the Brewers 11-6. Josh Harrison set a new career high with five RBI's, and also falling a triple short of hitting the cycle.
The good news for the Brewers is that St. Louis failed to hold on to a lead, giving up a four-run 3rd inning to the Phillies. The Cardinals lost 5-4 and remain a game and a half behind the Brewers in the National League Central Division.
The two teams meet again Saturday. Listen to the action, starting with pre-game coverage at 5:35 p.m. on WSAU 550 AM and 99.9 FM.