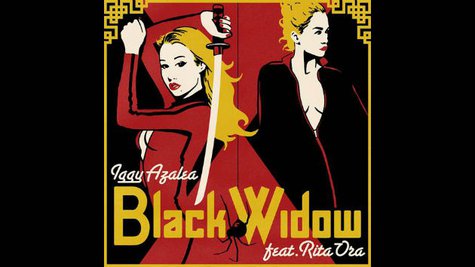 Iggy Azalea and Rita Ora put on a show-stopping performance of "Black Widow" at Sunday night's MTV VMAs, but their performance could have been even hotter, if Iggy had gone along with Rita's plans for a girl-on-girl makeout session.
Speaking to the British paper The Sun , Rita reveals, "I said to Iggy we should just make out on stage, kiss during our performance. She told me that would be crazy because it's already been done. Britney Spears and Madonna kissing was my favorite VMA performance ever."
Rita admits that they were lucky to even be able to do their performance Sunday, since on Friday night, Iggy fell off stage at a pre-VMA concert. "Bless her. I was just happy she was OK because, God forbid, we couldn't perform after all that. Can you imagine?" Rita says.
As far as "Black Widow" goes, Rita says, "To us, this is a duet about female empowerment. We wanted to do a song where it's two blondes coming together as a unit."
Iggy isn't Rita's only pal in the industry. The British singer, who'll be releasing her own album next year, says she pals around with fellow Brits Ed Sheeran , Ellie Goulding and model Cara Delevigne because "there aren't that many real people in this industry," adding that those stars are "just the simplest, purest, funniest people you'll ever meet."
One Brit she's not hanging out with, though, is Scottish DJ and artist Calvin Harris , with whom she had a bitter breakup. Regarding rumors that the release of her album is being pushed back because they're arguing over songs on the record that he produced, she tells The Sun , "It was always meant to have been released early next year. That's never changed. I don't understand why people said anything different."
Her current solo single, "I Will Never Let You Down," was written and produced by Harris.
Follow --ABCNewsRadio
Copyright 2014 ABC News Radio