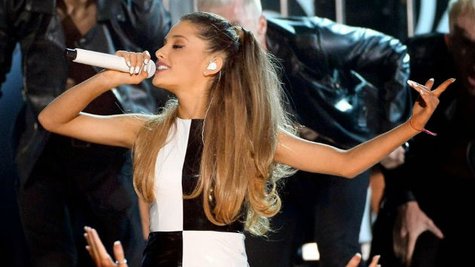 Ariana Grande certainly looks sweet and demure, but things aren't always as they appear. The 21-year-old singer says she "absolutely" curses a lot, claiming, "I wish I could less!...I have the sense of humor of a 14-year-old boy."
Speaking with Time magazine , Ariana says, "I...think that people have a misrepresentation of me as a person because I'm friendly and I like to meet people and I like to talk to people and make people laugh. Sometimes people can confuse my niceness for weakness in a way -- or ditziness or stupidity. But it doesn't go hand-in-hand in that way."
"When people are shocked when they see me curse, I wish they knew my sense of humor," she adds. "I have the sense of humor of a 14-year-old boy. It's very crude. When I was seven years old, my mom took me to see Rocky Horror . That's just how my family is. We're just this Italian family that loves slightly raunchy humor."
Ariana also reveals that, while her current hit "Break Free" is about cutting yourself loose from a bad relationship, she interpreted the lyrics in a different way.
"It is a great breakup song, but for me, personally, I didn't have a boy to sing it about because I'm not breaking up with anybody," she tells Time. "I sang it about my personal things that are holding me back, my fears, certain negativities in my life that were holding me back. Things I was afraid of like, ego and fear and all of that."
"I wanted to break free from all that I felt like was making me enjoy my life a little less," she adds.
Finally, Ariana reveals that when she goes to Starbucks, she doesn't always order the "grande" size. "Sometimes I get that venti, you know? Some days that's what you need in your life," she says.
Follow @ABCNewsRadio
Copyright 2014 ABC News Radio