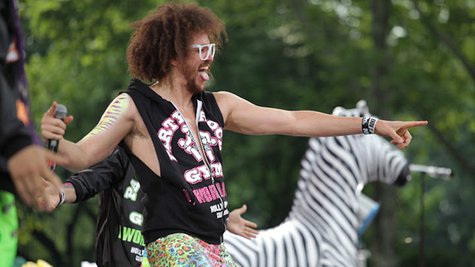 LMFAO 's Redfoo suffered a gash on his forehead Wednesday after an unidentified man allegedly threw a glass bottle at the singer in a suburban hotel bar outside Sydney, Australia, according to The Daily Telegraph .
The 38-year-old Redfoo, who was born Stefan Gordy , was partying at the Golden Sheaf Hotel in Double Bay when the incident happened.
"We were sitting in the back area with my mates, surrounded by some thangs. We are dancing, having a good time, we're taking some pictures, taking the snapchats," Redfoo said, according to the Telegraph . "All of a sudden out of nowhere a glass hits me in the head and I look over to see who might have thrown it and I see kind of a dodgy fella trying to flee the scene." Redfoo said he did not know anything about the man who allegedly struck him.
Redfoo suffered a cut over his right eye and was treated at the scene by paramedics.
A 21-year-old man was arrested in connection with the attack and charged with malicious wounding.
Redfoo has been serving as a judge on the Australian version of The X Factor .
Follow @ABCNewsRadio
Copyright 2014 ABC News Radio