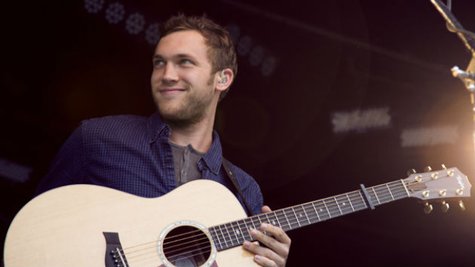 Phillip Phillips scored the biggest single of any American Idol alumnus ever with "Home," but at first, he said he wasn't crazy about the song because it was "a little too pop" for him. Well, Phillip's hard at work on his second album, and he says the songs on this one will truly reflect his musical style.
Speaking to Fuse , the American Idol season 11 champ says that the new disc is "a little heavier," and "a little more rock." He explains, "[On my] first album, I had a blend of the folk and rock. Now, I'm pushing a little more towards me."
Phillip also says his new songs are "a little darker," but before you think he's going to make an album that's miserable, he adds that there's "also some happy things" because "everybody wants to feel happy."
Phillip says he's "excited" to put the record out. There's no planned release date as of yet, and he says he's "just trying to get it all done, but at a good pace, not too crazy." Then again, Phillip made his debut, The World from the Side of the Moon , in just three weeks, and it's sold more than a million copies.
Phillip will put his recording on hold next month when he kicks off his first headlining tour of Canada.
Copyright 2014 ABC News Radio