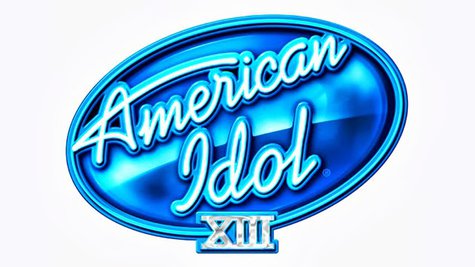 For the first time in American Idol history, a contestant has declared she is gay in front of the show's cameras. It happened on Wednesday night's episode, when MK Nobilette told the judges, "I am very obviously gay."
MK was one of the many contestants who met with Jennifer Lopez , Harry Connick, Jr. and Keith Urban to learn whether they would advance to the top 30. The panel admitted they weren't sure where MK fit in the competition, in terms of her style.
The judges asked MK for her opinion, at which point she revealed her sexual orientation and added, "There are always going to be people in America and everywhere else that are definitely going to hate me." However, she said she has seen positive changes in that regard in recent years.
J-Lo suggested that American Idol is ready for an openly-gay contestant, and MK advanced.
MK is not the first gay contestant in series history. For example, former runner-up Adam Lambert is gay, but he didn't come out until after he competed on the show.
Wednesday night's two-hour episode was a continuation of Hollywood Week. Ultimately, 15 women and 15 men will move on, though there's a slight twist to the format that we'll explain below.
Here's a rundown of what else happened:
Emily Piriz was the first contestant to sit down with the panel -- and the first to reach the top 30.
Jennifer told Spencer Lloyd his decision to perform an original song during the solo round of Hollywood Week worked against him. However, he still advanced.
Jillian Jensen , George Lovett , Sam Woolf and Malaya Watson are moving on, but it's the end of the road for Madelyn Patterson , Sabrina Lentini and Keri Lynn Roche .
Maurice Townsend had performed "Wrecking Ball" during the solo round. Keith Urban told him the show was looking for contestants who have a voice that can connect with the audience. Maurice apparently fits the bill, because he'll be back.
Bria Anai ran out of the room with excitement when she discovered that she remains alive in the competition.
Jessica Meuse and Jesse Roach were forced into a sing-off, with their spot on the show on the line. Jessica performed Lynyrd Skynyrd 's "Simple Man," while Jesse tackled KT Oslin 's "Do Ya." Jessica won the battle, and Jesse was sent home.
Next up was Dexter Roberts , who advanced.
Emmanuel Zidor shed tears as soon as he walked into the judges' room. He said so many people from his hometown would love to be in his shoes, and that he would be devastated if he were to be eliminated. Fortunately for him, that didn't happen.
Kristen O'Connor moved on. So did Jordan Brisbane , who was celebrating his 16th birthday.
Leah Guerrero and Andrina Brogden were brought in together. Andrina is in, and Leah is out.
In subsequent segments, Malcolm Allen and Alex Preston were told they are sticking around.
Another sing-off featured two Alabama boys: Casey Thrasher and C.J. Harris . C.J. covered The Allman Brothers Band 's "Whipping Post," while Casey sang "Don't Ya" by Brett Eldredge . We'll find out who makes the cut Thursday night at 8 p.m. Eastern time on Fox.
In a twist, the judges will select two guys who will be subject to a viewers' vote. Whoever wins the vote will earn the final spot in the top 30.
By the way, Wednesday's episode featured a brief cameo from former judge Randy Jackson , who will serve as a mentor this season.
Copyright 2014 ABC News Radio