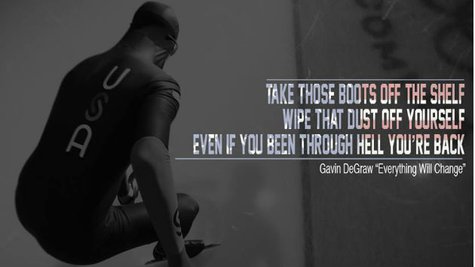 The Olympic athletes in Sochi, Russia, listen to all kinds of music to get themselves psyched up for their events, but collectively, Team U.S.A. also has an official theme song : "Everything Will Change," by Gavin DeGraw . Gavin says he specifically wrote the song with an eye towards it becoming an Olympic anthem.
Gavin says when he and his co-writer, Martin Johnson , sat down to write together in Nashville, the lyrics they came up with -- like "Wipe that dust off yourself/Even if you've been through hell, you're back/It's time to separate the men from the boys/And the women from the girls" -- read like a message of encouragement to people facing hard times. That's why, Gavin says, he and Johnson decided to go for it.
"It seemed like the type of song that was going to inspire people," he tells ABC News Radio. "And we decided, 'Why don't we...keep going in this inspirational direction and see if we can actually write a song for the Olympics, and make it that personal and make it that motivating?'"
"So when we finished the song, we submitted it," he continues, "And we were lucky enough to have the U.S.[Olympic Committee] select the song."
With lines like "Hey, I feel it coming on/Starting like a fire/tonight you lit the flame/Now everything will change," it's no wonder the Committee felt it summed up the Olympic experience. And Gavin says the fact that they chose his song is one of his greatest accomplishments.
"Having the U.S. Olympic team use 'Everything Will Change' as their theme is one of these incredibly amazing moments as an American," he tells ABC News Radio. "Because it's sort of like, as a kid, you kind of always hope that you'll be part of something important in that regard; and it's very rewarding for me as a musician...and as a patriot."
When the Olympics started, the Committee tweeted to Gavin, "Thank you for the soundtrack to the incredible #Sochi2014 experience for #TeamUSA !" To which he replied, "Go USA! I'm cheering u on."
Copyright 2014 ABC News Radio