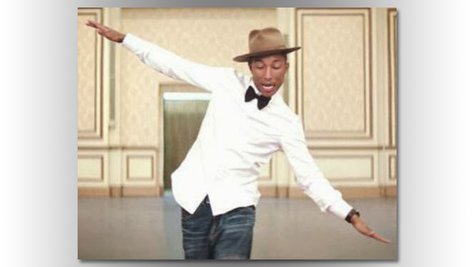 Pharrell 's feel-good tune "Happy" has been selected for Fiat's new 2014 global campaign.
According to Billboard , the tune can be heard playing in the background for a new commercial, titled "Mirage," which will premiere on television February 13. Fans can also check out the full 60-second clip on Fiat's official YouTube page.
Sean "Diddy" Combs makes an appearance in the the desert-themed ad and simultaneously promotes Aquahydrate, his own brand of "performance water" as well as hit Revolt TV network.
"Fiat could never write a check for an appearance from Diddy," said Olivier Francois , Chrysler chief marketing officer said during a presentation in Midem. "But we are able to offer something instead. The connection. The exposure. The triangulation of brands. Is it product placement? Of course it is. It's Diddy's products in our ad. But it makes as much sense as water in the desert. And in return, we get something unique. Him."
Francois also revealed that Pharrell's tune is a part of a "global partnership" and described the teaming as "a match made in heaven."
In other news, Pharrell's "Happy" climbs from #8 to #2 on the Billboard Hot 100 chart this week.
Copyright 2014 ABC News Radio