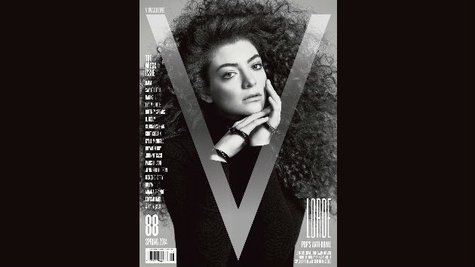 Lorde is one of the hottest stars on the music scene right now, but she says she's aware that she may be approaching the saturation point where people will start to get sick of her. Speaking to V magazine for its Music issue, the 17-year-old Grammy winner says, "I want to let people stop hearing Lorde on the radio all the time."
"It's kind of crazy at the moment," she continues, adding that she's been working on new lyrics, but doesn't plan to put out any new songs for quite some time. After all, she's just about to start her first really big headlining tour in support of her debut album, Pure Heroine .
"I'd like to give people a little bit of breathing room before I unleash something different," she tells V . "I'm a big believer in making a record that has a certain aesthetic, and touring that record, and finishing that, and then a kind of reinvention taking place. I like that, and I don't think you can do that without giving things time to breathe."
Whenever she releases a new album, it's bound to feature a world view that's different from "Royals," which was written from the point of view of someone who was outside looking in. These days, Lorde's walking down red carpets and hanging at parties with the kind of people she depicts in that song -- the kind she couldn't relate to when she was just a schoolgirl in New Zealand.
"It is at odds with what I write about, and the reality of my life until a few months ago," she acknowledges. "But when I go home, I still do all the stuff I used to do. I dunno...part of me feels like it's weird to just get sucked into that world."
Another thing that makes her uncomfortable, she says, is earning raves from grown-ups simply for writing about what it's like to be a teenager. Told by V that one writer called her "the Nirvana of now," she responds, "Oh, come on!...I'm sure so many people will read that and be like, 'F**k off!'"
"A lot of this is coming from adults who are saying that what I've done has had some profound impact," she continues. "But I don't know if people my age think it's wizardry. They just think, 'Oh, okay, someone's saying that.' I mean, I wrote this record about my mates and my town and my life, and nothing more."
You can read the entire interview with Lorde when the magazine hits newsstands on February 27.
Copyright 2014 ABC News Radio