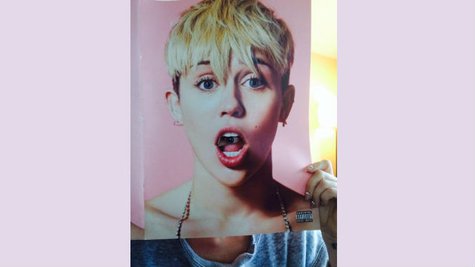 Miley Cyrus isn't shy about telling people how much she enjoys marijuana, and one particular item of merchandise for sale on her newly launched Bangerz tour reflects that: 24K gold rolling papers.
Rolling Stone reports that in addition to the regular t-shirts and tour books available on the tour, fans can also purchase official Bangerz rolling papers for $40 per pack, and each one includes two sheets made of edible 24K gold leaf. In addition, according to the British paper The Daily Mail, each Miley tour book comes with two free sheets of the gold papers. The gold sheets, called Shine Papers, weren't just developed for Miley, though -- they retail for $65 per 12-pack.
During her concert tour, Miley, who recently told W magazine , "I love weed. I just love getting stoned," also parades on stage in a bejeweled leotard decorated with pictures of marijuana leaves, and according to Rolling Stone , one of her back-up dancers is dressed as a joint, while others are dressed as giant lighters.
Of course, there are other things going on during the concert besides weed-worship. For one thing, Miley sings a lot, even busting out an acoustic version of the Outkast hit "Hey Ya." She also straddles a giant hot dog, takes the stage by sliding down an enormous, inflatable tongue, and pretends to perform a sexual act on someone dressed like Bill Clinton . She also twerks, throws fake money into the crowd and treats fans to a rendition of "Party in the U.S.A." So, all in all, a typical evening at home for the singer.
The Bangerz world tour is scheduled to wrap up in Switzerland in June.
Copyright 2014 ABC News Radio