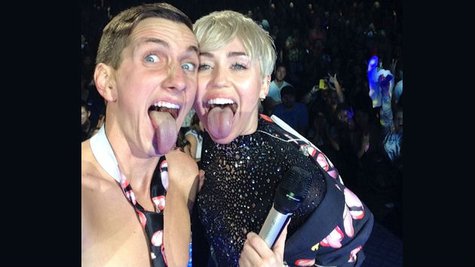 A few weeks ago, a Miley Cyrus superfan named Matt Peterson asked her in a video to go to the prom with him . Miley responded that said she wasn't available that night, but instead offered to "hang" with him when she played his home state of Arizona. Well, she's made good on her promise: on Thursday night, the two got together for what they called a "Bangerz Prom," after the name of Miley's current tour.
As documented blow-by-blow on his Twitter and Instagram accounts, Peterson arrived at the concert in a tuxedo jacket decorated with tongues , with a giant foam finger affixed to the back. He also wore white boxer shorts and carried a lovely corsage. He then posted a photo of himself leering while clutching two naked blow-up dolls, with the caption, "how I feel moments before meeting @MileyCyrus."
That was followed by a shot of himself and Miley embracing onstage: he's bare-chested except for a tie, she's wearing his jacket, and there's a graphic of an engagement ring around them. "so, this happened tonight...," he wrote. " @MileyCyrus , I can never thank you enough. #BANGERZprom."
"Oh, and this happened," Peterson added, posting a photo of himself and Miley both sticking their tongues out on camera.
Matt also posted a photo of himself and Miley posing backstage in what looks like a traditional prom photo, except for the topless blow-up dolls and the "Bangerz" backdrop. "currently don't have many words so I'll just say, thank you. I apologize for my sweaty hands, dance moves, & nonexistent 6 pack," he wrote to her .

Miley replied , "thank you for a prom night i will never forget!"
Copyright 2014 ABC News Radio