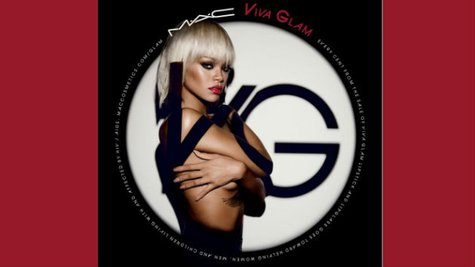 Last year, Rihanna was tapped as the new face of MAC Cosmetics' Viva Glam charity line. Now, the company has announced that her lip color shade for the line will be available later this month.
MAC tweeted , "Call in the Navy! @Rihanna 's #VIVAGLAM arrives online in N. America 1.21. Are you ready, #MACgirls ?"
Meanwhile, Rihanna tweeted the first image from her Viva Glam ad campaign. It shows her turned sideways and topless, wearing a blonde bob wig and bright lipstick. She's crossing her arms over her chest, but you can still see the edge of the large tattoo she has under her breasts peeking out the side. She's posing against a white circle, and the letters "VG" are projected onto her body.
Around the circle are written the words, "Every cent from the sale of Viva Glam lipstick and lipglass goes toward helping women, men and children living with and affected by HIV/AIDS."
Stars who've fronted the Viva Glam campaign in the past include Nicki Minaj , Lady Gaga , Ricky Martin , Cyndi Lauper , Elton John , Christina Aguilera , Mary J. Blige , Missy Elliott , Fergie and many more. To date, Viva Glam has raised $270 million.
Rihanna has already launched several makeup collections in partnership with MAC.
Copyright 2013 ABC News Radio