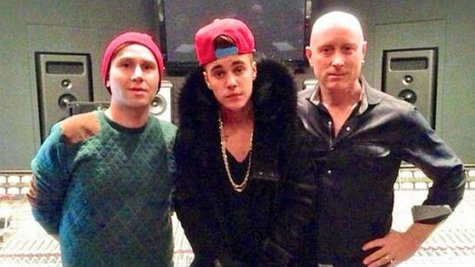 Here's how we know that all that " Justin Bieber is retiring" talk wasn't true: a music producer has offered photographic proof that the Bieb has been slaving away in the studio working on new music for his fans.
On January 1, Toronto producer Douglas Romanow posted a photo on his official website of himself posing with Justin. He wrote, "I can confirm that rumors of Justin Bieber's retirement are greatly exaggerated. I have spent much of this holiday season recording this talented artist." He also posted the photo on his Twitter feed.
In December, the singer told a radio station he was retiring, and said it again on Twitter; both times, his reps assured everyone that he was not serious. However, the singer is going to take some kind of break, according to his manager.
At the premiere of his latest movie Believe , Justin's manager Scooter Braun told ABC News Radio, "He's gonna take a break and he's gonna be creative, and I hope the paparazzi lay off, but I doubt they will. And I think I'm gonna give him time to not worry about any professional responsibilities, and just take time for himself."
Copyright 2014 ABC News Radio