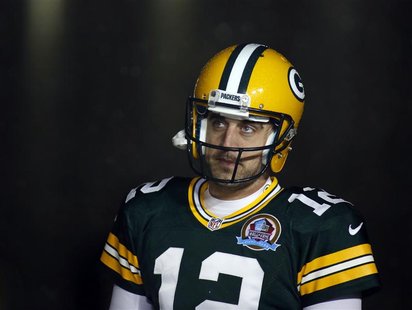 GREEN BAY, Wis (WSAU-TSN) The San Francisco 49ers have gotten the best of the Green Bay Packers in three meetings since the start of the 2012, including a postseason victory in last season's playoffs.
Enter the great equalizer: winter at Lambeau Field.
Winter is coming for the wild-carding Niners, who visit the NFC North champion Packers on Sunday afternoon.
These two clubs have seen plenty of each other over the past two seasons. San Francisco snapped an eight-game slide in Green Bay with a 30-22 win in Week 1 of last season, though the temperature was hardly a factor given the game took place on Sept. 9.
"You just have to block it out," said 49ers quarterback Colin Kaepernick of adjusting to the cold weather.
Kaepernick took over as the starter for San Francisco midway through the 2012 campaign and helped his club get the better of the visiting Packers in last season's divisional contest en route to a Super Bowl appearance and loss to the Baltimore Ravens.
San Francisco opened its 12-4 campaign with a 34-28 victory over Green Bay, with Kaepernick outgunning Aaron Rodgers in a game that featured 879 yards of total net offense.
After torching the Packers with his legs during the playoffs, Kaepernick did it with his arm back in Week 1 with 412 passing yards and three touchdowns to zero interceptions.
In his Niners debut after coming over from a Ravens team that beat San Francisco in last season's Super Bowl, Anquan Boldin had 13 receptions for 208 yards with a touchdown.
Rodgers threw for 333 yards with three touchdowns, getting picked off once.
Rodgers ended this season with a 104.9 passer rating, becoming the first quarterback in NFL history to surpass a 100 rating in five straight seasons. A broken collarbone sidelined him for seven straight weeks but he returned to lead Green Bay to a season-ending victory over the Chicago Bears to secure the Packers' third straight division title.
Rodgers shook off some early rust to march Green Bay 87 yards for a game- winning drive, converting three times on fourth down. That included a 48-yard touchdown throw to Randall Cobb on 4th-and-8 with 38 seconds to play.
"I looked outside to make sure we had a big play there," Rodgers said. "From the throw I missed Andrew Quarless on earlier in the drive, I knew I had to get a little bit on it to make sure I didn't way underthrow him. When that ball came down and he got into the end zone it was just pandemonium."
The former MVP finished the game 25-for-39 for 318 yards, two touchdowns and two interceptions for the Packers, who won three of their last four games to finish the season 8-7-1.
Cobb, who had been out since fracturing his right tibia on Oct. 13 against Baltimore, caught both touchdown passes by Rodgers, while Jordy Nelson had 10 grabs for 161 yards.
Despite having an inferior record to the Niners, the Packers will play host this weekend and are making no apologies for doing so.
"Everybody's record right now is the same. We're in the tournament. There's 12 teams with a chance to the win championship," said Rodgers. "That's how we're looking at it. We won our division to give us the right to host a home playoff game and we're going to try and make the most of it."
Game coverage begins at 1pm on AM-550 FM-99.9 WSAU. Kickoff is scheduled for 3:40pm CT.