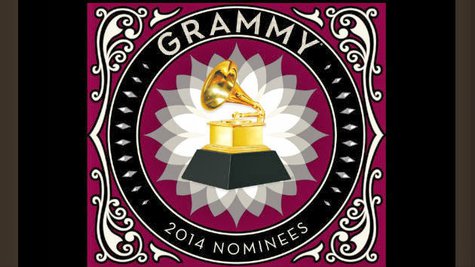 The 56th Annual Grammy Awards are less than a month away, and if you still need to brush up on who's nominated for what, there's one album that'll do the trick. The 2014 Grammy Nominees album, hitting stores January 21, features songs from select nominees in all the top categories, all in one handy place.
The 18-track disc includes the nominated songs in the so-called Big Four categories -- Record of the Year, Song of the Year, Best New Artist, and Album of the Year -- as well as songs nominated in some of the specific genre categories: Pop, Rock and Country.
The songs on the 2014 Grammy Nominees disc include some of the year's biggest hits, from "Blurred Lines," "Get Lucky" and "Royals," to "Just Give Me a Reason" and "Roar." There are also songs from Taylor Swift , Justin Timberlake , Sara Bareilles and Bruno Mars , as well as tunes from nominees you may not be as familiar with, such as country star Kacey Musgraves and British singer/songwriter James Blake , both of whom are up for Best New Artist
If you pre-order the disc at Grammy.com/2014GrammyAlbum by January 20, you can enter to win a trip to this year's Grammy Awards, which airs live on CBS January 26 at 8 p.m. ET/PT. Additionally, if you buy the album in stores, you will receive a special game piece that will allow you the chance to enter to win a trip to next year's Grammy Awards.
Here's the full track list, and the categories in which each song is nominated:
Bruno Mars, "Locked Out of Heaven" -- Record of the Year, Song of the Year
Robin Thicke, "Blurred Lines" Feat. T.I. & Pharrell Williams -- Record of the Year
Lorde, "Royals" -- Record of the Year, Song of the Year, Best Pop Solo Performance
Imagine Dragons, "Radioactive" -- Record of the Year
Daft Punk, "Get Lucky" Feat. Pharrell Williams -- Record of the Year, Album of the Year
Katy Perry, "Roar" -- Song of the Year, Best Pop Solo Performance
Justin Timberlake, "Mirrors" -- Best Pop Solo Performance
Sara Bareilles, "Brave" -- Album of the Year, Best Pop Solo Performance
Macklemore & Ryan Lewis, "Same Love" Feat. Mary Lambert -- Album of the Year, Song of the Year, Best New Artist
James Blake, "Retrograde" -- Best New Artist
Kendrick Lamar, "Swimming Pools (Drank)" -- Album of the Year, Best New Artist
Ed Sheeran, "Lego House" -- Best New Artist
Pink, "Just Give Me a Reason" Feat. Nate Ruess -- Song of the Year
Taylor Swift, "Begin Again" -- Album of the Year, Best Country Album
Blake Shelton, "Mine Would Be You" -- Best Country Album
Kacey Musgraves, "Merry Go 'Round" -- Best New Artist, Best Country Album
Tim McGraw, "Highway Don't Care" Feat. Taylor Swift & Keith Urban -- Best Country Album
Jason Aldean, "Take a Little Ride" -- Best Country Album
Copyright 2014 ABC News Radio