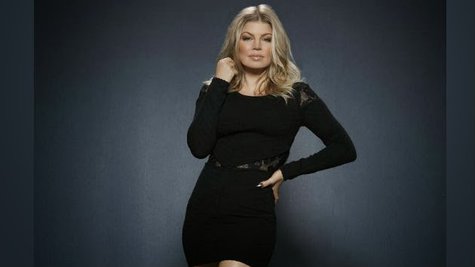 Fergie gave birth to her son Axl Jack in August, and now, like a lot of people come January, she's on a quest to get back into shape. She already looks pretty great, as you might've seen by her appearance on Dick Clark's New Year's Rockin' Eve , but when you're a global pop star, there's always room for improvement. Fergie says her workout plan runs the gamut, from the traditional to the exotic.
"I'm mixing it up. I'm doing hikes. I'm doing yoga mixed with belly dancing," she tells ABC News Radio. "I have this amazing teacher named Dana and we do a lot meditation, then poses for balance, and then at the end we'll get up and do some belly dancing. It's just a fun, different thing. I did it while I was pregnant. I really enjoyed it so I've kept it through."
Fergie also works out with stretchy rubber resistance bands, but some of her workouts with her trainer include physical therapy. It seems one particular body part of the singer's has taken a beating after years of onstage antics.
"We're doing some rehab on my shoulder, because all those years of one-handed walkovers on tour makes my shoulder pop out sometimes," she laughs. "So I've gotta really do rehab to keep that back."
But what's making her shoulder issues worse, she says, are certain, well, things that come along with motherhood.
"The breast size got bigger with the pregnancy, and [then] holding my son, so it's like this mommy shoulder thing that's going on!" Fergie laughs.
While Fergie's "up in the gym just working on her fitness," she's also contemplating a new solo album, which would be her first since her best-selling 2006 disc The Dutchess. While she says we'll hear that solo album before we get a new Black Eyed Peas album, there's no set plan beyond that.
"There's no timetable...it's really about it marinating right now," she tells ABC News Radio. "And when it's ready, it'll be ready, and I'm just gonna know it and that's when it's gonna be released."
Copyright 2014 ABC News Radio