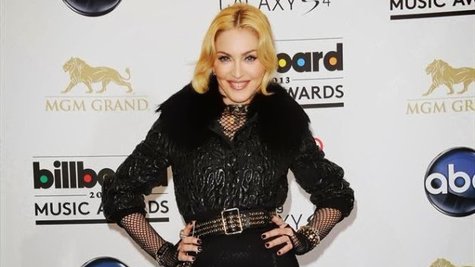 Madonna and Katy Perry are teaming up, but not for a duet. The Queen of Pop has tapped the "Roar" singer to serve as guest curator for her ongoing Art for Freedom project, which encourages artists to submit works that express their thoughts on the concept of "freedom," personal or otherwise.
As guest curator, Katy will work with Madonna to choose submissions to be showcased each day at ArtforFreedom.com. Then, one artist whose work "demonstrates a unique view of the fight for human rights" will be selected for the month of January, and Madonna will award a $10,000 grant to the nonprofit organization of that artist's choice.
In a statement, Madonna says, "Art can change the world, but first it needs to be seen and heard. Katy Perry and I are asking you to be that voice and show us how you define freedom in 2014...Let us hear from you." Katy adds, "I am so fortunate to have the freedom to express myself through music. Now I'm calling all of my incredibly creative KatyCats to use their talent to show Madonna and me how they express their freedom."
Katy adds, "I believe that 2014 can be a year of great social change. Together we can all stand up for Human Rights. Join the conversation, and let your art be your voice."
Madonna founded the Art for Freedom project in September. Last December, the first guest curator for the project was magician David Blaine .
Copyright 2014 ABC News Radio