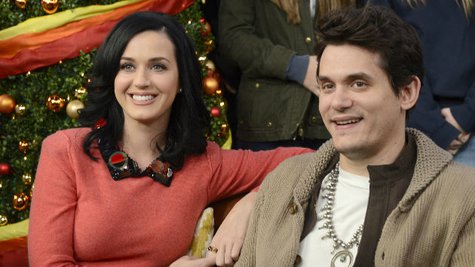 Katy Perry is three for three when it comes to best-selling albums. According to Billboard , her latest disc, Prism, has just topped the one million mark. It took just 11 weeks to reach that milestone. By comparison, her smash 2010 album Teenage Dream took 20 weeks to sell a million.
Prism has also just spun off its second top 10 hit as Yahoo! Chart Watch notes. "Dark Horse," Katy's third single from the disc, jumps to #6 on the Hot 100. "Roar," the album's first single, reached #1, but its second, "Unconditionally," to date has failed to crack the top 10.
Meanwhile, Katy's boyfriend John Mayer has some news of his own: Rolling Stone reports that he's just hired Lady Gaga 's old manager, Troy Carter , who she split with last year, right before the release of ARTPOP . The break was reportedly due to "creative differences."
Carter was seen as instrumental in Gaga's rise to success, especially when it came to business partnerships. However, Gaga recently wrote on her social networking site that she had been "betrayed" and "gravely mismanaged" by unnamed people; some felt she was referring to Carter.
John split with his longtime manager in December. While no direct cause and effect has been mentioned, the move did come after John's album Paradise Valley failed to debut at #1: the first time since 2006 that he missed the top spot. A source tells Rolling Stone that the partnership between Carter and John is "just getting started but great new things will be announced as the year progresses."
Copyright 2014 ABC News Radio