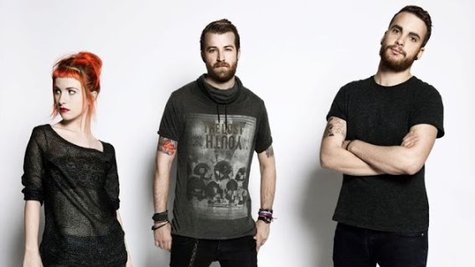 You can now add Paramore to the list of artists who will be performing special concerts to celebrate next month's Super Bowl. The band has signed on to play a set at the eighth annual DirecTV Celebrity Beach Bowl, an event that features celebrities competing against former NFL players in a game of flag football.
The Celebrity Beach Bowl will take place on February 1 at Hudson River Park Pier 40 in New York City, on an indoor beach covered with more than a million pounds of sand. The national anthem will be sung by Isaac Slade, frontman for The Fray , at 1:50 p.m. ET, and the game begins at 2. Paramore perform their set at the end of the game at 3:20 p.m.
The event is open to the public, but if you can't make it, you'll be able to watch it on DirecTV's Audience Network, NBC Sports Network, Root Sports Networks, as well as internationally on DirecTV's Pan Americana and Puerto Rican outlets.
Some of the celebrities who'll be taking the field for the football game include Tracy Morgan , Chace Crawford, Ian Somerhalder, Nina Dobrev, Shay Mitchell , and Peter Facinelli , as well as NFL Hall of Famers Joe Montana , Deion Sanders , and Warren Moon . Visit DirecTV.com/BeachBowl to see the full list of game participants.
Super Bowl XVIII will take place on Sunday, February 2, at MetLife Stadium in East Rutherford, New Jersey.
Copyright 2014 ABC News Radio