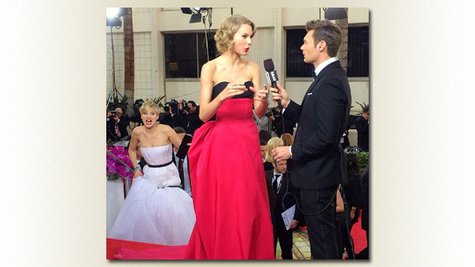 Taylor Swift is now a two-time loser when it comes to Golden Globes Awards -- she lost to U2 at Sunday night's show. However, she did get the chance to start a new mutual admiration society with Jennifer Lawrence , a winner last night for American Hustle.
While Taylor was chatting on E!'s red carpet with Ryan Seacrest about her nominated song "Sweeter Than Fiction," J-Law pretended to sneak up a staircase behind Swift, with a giddily cartoonish expression of anticipation on her face. He later posted her priceless "pouncing" expression on Instagram. "The single most important photo from the #goldenglobes red carpet," the American Idol host captioned the shot.
When Taylor was done talking to Ryan, she and J-Law hugged, and Jennifer joked to Taylor, "I was going to come and push you down the stairs," referring to her own famous near-face plant at the Oscars. "I was like, she'll crack up! She would really love that!" "That would have been so funny," Taylor said sarcastically, but with a smile on her face.
When Ryan asked J-Law if she'd seen Taylor in concert, the actress said, "No, she's never invited me," leading Taylor to insist, "I have invited you so many times! But she did watch the CMA Awards..." "Oh my God, I freaked out about the CMAs!" Lawrence exclaimed, adding, "I sent her, like, a text message that was six inches long...she was just so incredible, I'm blushing now just thinking about it!"
Taylor, who said she found the text very "heartfelt," told Jennifer that while watching her film American Hustle , she wanted to "do the same thing...send a novel[-length] text message."
Taylor and Jennifer have apparently known each other some time; Taylor's first Golden Globe nomination came for a song she'd written for the first Hunger Game s film which, of course, starred Jennifer.
During the actual telecast, Tina Fey managed to reference the trouble that she and co-host Amy Poehler started last year when they made jokes about Taylor's love life. Following their comments, Taylor said that there was a "special place in hell" for women who didn't support other women. So when Poehler won last night for Parks & Recreation , Tina said onstage, "I just wanna say congratulations again to my friend Amy Poehler! I love you and there's a special place in hell for you."
Copyright 2014 ABC News Radio