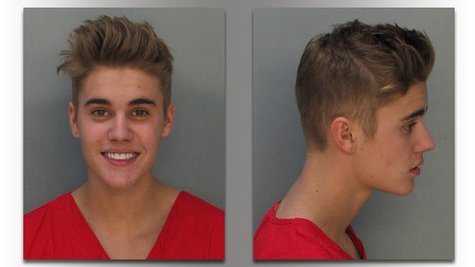 Justin Bieber 's DUI arrest may turn out to have more serious consequences than he thought.
A law enforcement source tells ABC News that when he was tested after his arrest, his blood alcohol level was .04. In Florida, you can get up to six months in jail if your blood alcohol level is between .08 and 1.5, but if you're a minor, the threshold is much lower.
Because of the state's zero tolerance policy for minors drinking alcohol; the blood alcohol level threshold for DUI for minors is .02. As a minor, Justin is well over the limit.

However, Justin may be eligible for a program for first-time offenders that reduces the charge to reckless driving. In that case, he wouldn't be convicted, and he wouldn't get any points on his license.
As previously reported, after he and a friend were caught drag racing on a residential street, Justin was arrested early Thursday morning in Miami for DUI, driving with an expired license and resisting arrest without violence. He admitted that he had consumed alcohol, smoked pot and taken prescription medication. His bail was set at $2,500 and he left jail just after 2 p.m. ET wearing a black hoodie and shades.
People magazine reports that the singer has hired Roy Black to represent him. In the past, Black, who is married to Real Housewives of Miami star Lea Black , has represented Kesley Grammar , Girls Gone Wild creator Joe Francis and conservative radio host Rush Limbaugh .
In other Bieber news, the hit Netflix show Orange Is the New Black, which takes place in a women's prison, posted a photo of the singer's mug shot and tweeted , "We've got an open bunk for you, @justinbieber."
Copyright 2014 ABC News Radio