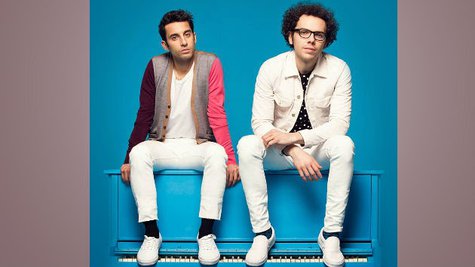 A Great Big World has been on tour in the U.S. for a while now, but they're ready to pack up and head across the pond for a series of shows overseas. While they've done promotional stuff abroad, they've never performed there, and the duo says they're psyched, especially for one tour stop in particular.
"I think both of us are most excited about Japan," A Great Big World's Chad Vaccarino tells ABC News Radio. In fact, his bandmate Ian Axel says he's going to go that extra mile to impress the fans there.
"I'm gonna learn 'Say Something' in Japanese, I think," he tells ABC News Radio. "Or [at least], like, a verse." Chad adds, "Yeah, you've got to! You have to!"
While in Japan, and in other countries, the duo will no doubt experience the same thing they've encountered in the States: bigger audiences than they expected, all of whom seem to know all their songs -- not just their big hit.
"Every time we come to a city, there's more people, especially [after] we put our record out," says Ian. "Everyone knew 'Say Something' first, and then we put our record out and everyone's singing all the words to all the songs, so it's a really good feeling."
The problem, though, is that "Say Something" is such a big hit that it's sort of overshadowing their new single, "Already Home." And as Ian explains, it's hard to believe that any other song they could release would ever be as big as "Say Something."
"It feels so much bigger than us and it's scary," Ian says of the hit. "I mean, it's amazing and it's our dream, but it's frightening -- 'cause, how do you follow that up?"
A Great Big World's first overseas shows will come this Saturday, at a festival in Birmingham, England. They'll do two shows in England before coming back home for a show in Canada and one in New York. Then, they'll turn around and head to Australia in August, followed by New Zealand, Malaysia, South Korea and Japan. They'll spend September touring Europe.
Follow @ABCNewsRadio
Copyright 2014 ABC News Radio