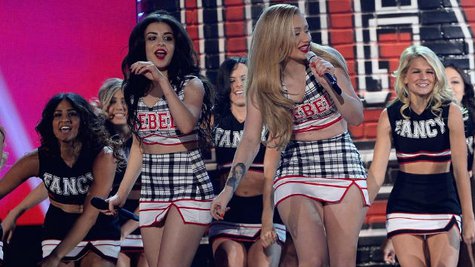 Iggy Azalea has said that she wanted to make "Fancy" a female anthem, so she tapped Charli XCX to contribute to the song. But in a new interview, Iggy claims she doesn't know how Charli ended up on the song, and that it was done without her knowledge. Not that she minds.
Speaking to the British paper The Guardian , Iggy says, "I have no idea how that song with Charli came about. I have no idea how she got on it -- [my production team] decided it would be a good idea and I found out later. I thought, she sounds good, let's keep her!"
In fact, Iggy tells the paper that she actually has no interest in doing collaborations -- this despite the fact that "Fancy" and her other big hit, "Problem," with Ariana Grande , are both duets.
"I never want to do them," she insists. "I never want to do duets. I don't think of other people when I'm writing my songs. I have to try and hold my own so much, it does not seem natural to me to ask for help. Sometimes a feature feels like asking for help."
So why do them? Iggy says her production team encourages her to, because they "keep [my] record company happy while [I] can get my sh** together."
Iggy's comments to The Guardian directly contradict what she told ABC News Radio earlier this year. In making "Fancy," the Australian rapper said, she wanted to "put a twist on it and" and make it "two female voices and a 'girl record,' because I didn't hear any of them....So I thought, 'Let me get Charli.'"
Her comments also contradict what Charli told ABC News Radio in May: that Iggy "hit her up" to contribute to the song. "She wanted me to come to the studio and hear some of her stuff, write some hooks for her for her record," Charlie explained. "And I heard 'Fancy'...and I loved it so I wanted to do something with it. So I did my thing and she liked it and it stuck."
Follow @ABCNewsRadio
Copyright 2014 ABC News Radio