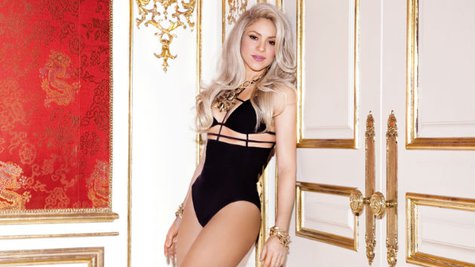 Although she's left The Voice , Shakira has booked another high-profile gig. The singer will perform "La La La (Brazil 2014)" at the FIFA World Cup closing ceremony. The single comes from the official World Cup album, One Love, One Rhythm .
The Colombian singer is no stranger to soccer of course. Her significant other and the father of her child, Gerard Pique , is a well-known Spanish soccer player who won the World Cup with the Spanish national team in 2010. And Shakira herself has performed at the World Cup before, in fact this will be her third consecutive World Cup closing ceremony appearance, and it was at her second in 2010 that she met Gerard.
"I just feel so grateful for the opportunity to come back to perform at the closing ceremony of this year's FIFA World Cup in Brazil," Shakira said in a statement. "It feels right. The fans have shown the most incredible support for this song and I can't wait to perform it for them."
The World Cup closing ceremony takes place July 13 before the final match at in Rio de Janeiro.
Follow @ABCNewsRadio
Copyright 2014 ABC News Radio