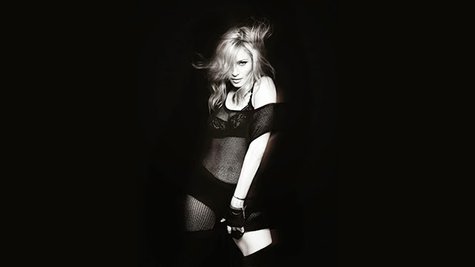 Madonna has begun dropping hints about the music she's been working on for her upcoming album, recently posting a image of the sheet music for a new song called "Messiah." Now, one of the producers working with her on her new record is giving fans a look inside the recording process.
"I think with her I didn't know what to expect," Diplo , the DJ and producer born Wesley Pentz , tells Idolator . But, he says, "She was up for anything. I love when an artist gives a producer the confidence he needs to work with them, and Madonna was very, very open-minded to my ideas."
Diplo, who has collaborated with everyone from Justin Bieber to Britney Spears to Usher to Bruno Mars to Beyonce , says he's already spent three weeks working with Madonna and that the pair have written seven songs, of which he hopes four or five might make her upcoming album.
So how will the new material sound? "Those records are gonna be crazy sounding," he says. "We really pushed the envelope with some of the stuff we were doing. The last night we were just having fun, and she was like, 'Yo, give me some of the craziest s**t you've got right now,' and we literally wrote a song that night on the craziest record I had. And it worked."
It's not clear when we'll get to hear Madonna's new music. There have been rumors that she's planning one of those "surprise" Beyonce-style releases, so it might come at any time. Meanwhile, besides Diplo, Madonna is working with a variety of collaborators, including producer/deejay Avicii , hit-making writer Toby Gad and MoZella , the woman who co-wrote Miley Cyrus ' "Wrecking Ball."
Follow @ABCNewsRadio
Copyright 2014 ABC News Radio