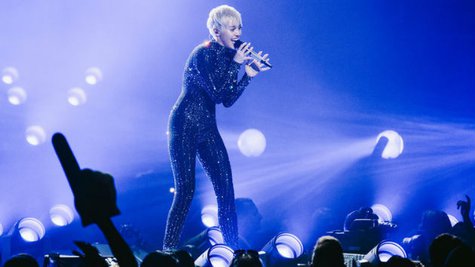 Miley Cyrus ' Bangerz tour hits small screens tonight when NBC airs a concert special shot on the singer's current tour in Barcelona, Spain. With all the buzz about the trek's provocative staging and costumes, the tour's creative director says it's Miley's vocal prowess that she expects will knock out viewers.
"Her performance in this special is flawless and passionate," Diane Martel tells Billboard . "Miley is a very serious musician. If this is something someone doesn't know, they will certainly know it after seeing the special."
The special also will take fans behind the scenes, to show Miley in private moments. "It's very low-key and intimate," says Martel. "When you watch these brief, but effective scene you see how relatable she really is. She really balances being an artist with being a 21-year-old quite well."
On top of the concert footage and intimate moments, viewers also will get to see Miley with members of her family including her brother Braison and sister Noah covering a Dolly Parton song in what Martel describes as a "very unusual location."
But Martel says seeing Miley on stage is the highlight of the special. "She's is so crazy and spontaneous each night," she says. "With each different audience, whatever they give her in terms of energy and actual gifts (hats, clothes, dolls, weird props) she works into each song."
The Bangerz Tour special airs on NBC tonight at 9 p.m. ET/8 p.m. CT.
After the show it's back to work for Miley and Martel. Martel -- who directed Robin Thicke 's infamous "Blurred Lines" video last year as well as Miley's "We Can't Stop" visual -- tells Billboard she'll be directing a video for Miley's "4X4" later this summer.
Follow @ABCNewsRadio
Copyright 2014 ABC News Radio